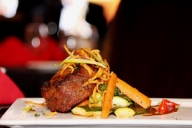 Dulcet Restaurant & Lounge
$30 Deal for $15
For only $15, you'll receive a Deal valid for $30 at Dulcet Restaurant & Lounge!
Dulcet's menu and ingredients change according to the essence of the season, taking advantage of each season's peak flavors.
They take great pride in securing ingredients of the finest quality, working to ensure that each dish is a distinct blend of elements meant to soothe the mind and enlighten the palette.
At Dulcet no stone was left unturned when seeking the tools to create an experience you will truly love and appreciate.
$30 value. Limit one certificate per party. Not valid with other specials, promotions or discounts. Tax and gratuity not included. No cash back. No cash value. Please present certificate prior to ordering. Expires: 10/31/18.
Sold Out!

New Port Richey
6220 Grand Blvd.
New Port Richey, FL 34652
(727) 494-7654