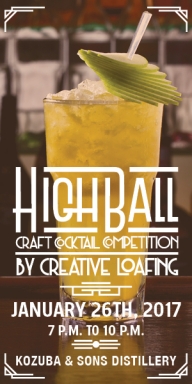 Creative Loafing Tampa
General Admission to Creative Loafing's HighBall Craft Cocktail Competition 1/26/17
For only $20, you'll receive a Deal valid for one general admission ticket to Creative Loafing's HighBall Craft Cocktail Competition on Thursday, January 26, 2017 at Kozuba & Sons Distillery from 7 p.m. - 10 p.m. ($40 value!)
GA includes craft cocktail samples from each restaurant/bar, bites, & voting in the 'Tampa Bay's Best Cocktail' contest.
Featuring local spirits, bartenders, and more, HighBall will showcase craft cocktails created by Tampa Bay's top mixologists with either whisky, vodka, gin, or rum as they compete to win over your taste buds!
Suit up and sip your way around more than 15 craft cocktails as you sample and judge the tasty concoctions all for the sake of finding the best whisky, vodka, gin, and rum cocktails, as well as 'Tampa Bay's Best Cocktail' at HighBall 2017!
Not to mention, we'll be celebrating the release of our cocktail issue - in print and online on January 26th - and the winning cocktails will be featured at Creative Loafing's annual Best of the Bay Awards Party in September!
FEATURING CRAFT COCKTAILS BY:
HighBall 2017
A craft cocktail competition by Creative Loafing
Thursday, January 26th, 2017
GA: 7 p.m. to 10 p.m.
Kozuba & Sons Distillery | 1960 5th Ave. S. in St. Pete
For 2-4-1 GA Tix, click here.
For 2-4-1 VIP Tix, click here.
For more info on this event, visit the official website here.
This is a 21+ event. Must show proper ID to enter.
$40 value. Valid for one general admission ticket to the HighBall Craft Cocktail Competition at Kozuba & Sons Distillery on 1/26/17 from 7 p.m. - 10 p.m. Must be 21+ to enter. No refunds on events. No cash back. No cash value. Programming subject to change. Event takes place rain or shine. Must print certificate and present with valid at ID at entry. Expires 1/26/17 after event.
Sold Out!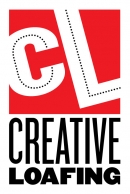 St. Petersburg
1960 5th Ave. South
St. Petersburg, FL 33717
(727) 201-9078