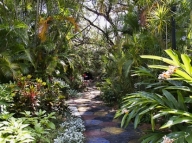 Sunken Gardens
50% off an Annual Family Membership at Sunken Gardens
For only $25, you'll receive a $50 certificate valid for one annual family membership at Sunken Gardens! A family membership includes 2 family members in the same household as cardholders and children 17 and under
Who would've thought that hidden behind a Carrabba's on Fourth Street in St. Pete lies a hidden treasure — gardens that are more than 100 years old. Yes, we are talking about the breathtaking Sunken Gardens.
Escape the hustle and bustle of downtown St. Pete at this historical, secluded gem that's shrouded in more than 500 species of tropical and subtropical plants. Beautiful walkways will carry you past Japanese, cactus and butterfly gardens, misty waterfalls, Chilean flamingos basking in the sun, peaceful sanctuaries where you can rest your feet, and exotic birds.
The perfect Saturday outing for the family, both kids and parents will love this 4-acre attraction that makes you feel like you're worlds away from the city.

*Annual membership begins upon first visit. Please print certificate and redeem at front desk.
$50 value. Limit one deal per family. A family membership includes 2 family members in the same household as cardholders and children 17 and under Limit one personal purchase per person, and one additional as a gift. No cash back. No cash value. Please print and bring certificate to Sunken Gardens for membership redemption. Annual family membership activated upon first visit. Expires: 12/31/2018.
Sold Out!

St. Petersburg
1825 4th St. N.
St. Petersburg, FL 33704
(727) 551-3102