2-4-1 All Access Passes to Downtown After Dark: Halloween in the City 2019 (The 6th Annual)
Downtown After Dark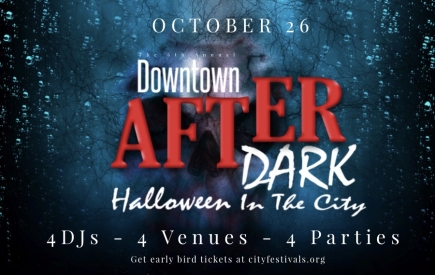 Add To Cart

For only $39, you'll receive a Deal valid for two (2) All Access Passes to Downtown After Dark: Halloween in the City (The 6th Annual) on Saturday, October 26, 2019 from 10pm-2am ($78 value)!
Saturday, October 26th, Downtown, Tampa transforms once more to the Halloween Headquarters of the Bay for the exclusive yet most anticipated adult party experience
FOUR PARTIES | ONE ALL-ACCESS PASS
The 6th Annual Downtown After Dark: Halloween in the City!
ENTER DOWNTOWN... AFTER DARK IF YOU DARE
4 Top DJs, 4 Themed Parties, 4 Downtown Venues all within walking distance from each other for 1 MAJOR EVENT!
Drink specials and costume contests at all four venues!
PARTY 1: Scooby Doo: The Blacklight Mystery Party - Four Green Fields
Scooby and the Gang are out for Halloween in the City
When gouls start lurking in Downtown, oh what a pity
Some disguised in costumes and others invisible through the night
Until the gang pins them at the party of Black Lights!
PARTY 2: Dance Party of Gone Legends - Pokeys Rock & Roll Bar
The DJ's spinning the greatest hits of all times by the legends who have passed and gone. It's a "Thriller Night" party, so "Let's Dance"... "Let's Get It On", "Dance with Somebody", be it Bowie, Michael, Whinehouse, or even Whitney, the Queen. "Wake me up before you go-go" because I don't wanna hear it "It was all a dream"
PARTY 3: 90s Throwback Party – Spain Restaurant & Toma Bar
It's a party that's "All That", so we're gonna take you there like Mya and "Rugrats"
Dress "Fresh" as Will, Cool as Zack or nerdy like "Screech" and "Urkel"
Or bring the crew because you're better as a pack... Power Rangers/Mutan Ninja Turtle
It's a "Different World" where you'll re-live days from Dr. Dre to even Nsync
So get ready to have some fun, party like crazy while you're sipping your drink
PARTY 4: CarnEVIL MASk Party - Jerk Hut Downtown
DJ Spinning Best of Reggae, Afrobeats & Soca
Endless vibes....all night long is what the people want
Little do they know, the vibes has come to haunt
Beautiful women dressed in Carnival costumes welcome you as come
But this fete has evil roaming amongst the fun and rum
Come one, come all to experience CarnEVIL, the "happy people MAS"
Enjoy the night as much as you can because it might just be your last!
21+ only.
For full event info and registration, click here.
Must contact CL Deals after purchase to receive a code. Must register on event site with promo code before event to redeem.
$78 value. Valid for two (2) All-Access Party Passes to Downtown After Dark at various Downtown Tampa locations on 10/26/2019 from 10 p.m. - 2 a.m. Each deal is good for two all access passes. 21+ only. No refunds on events unless canceled by organizer. Event takes place in four locations. Will not be admitted without registering on event site beforehand. No cash back. No cash value. Must print certificate and present with valid at ID at entry. Expires 10/29/2019 after event. Must contact CL Deals after purchase to receive a code to register on event site to redeem.