2-4-1 Admission to Tampa's Last Saturday Bar Crawl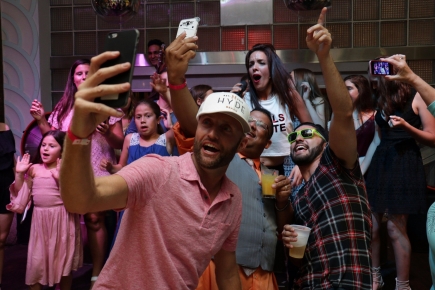 $40.00
Today Only!
reg. $80.00
50% Savings
0 Purchased
Time Remaining0 Days
For only $40, you'll receive a Deal valid for two (2) admissions to Tampa's Last Saturday Bar Crawl on Saturday, September 30, 2017 from 2-8pm ($80 value).
The Signature Bar Event of Tampa. This is the BIG ONE, the big chalupa, the whole oyster (is that even a thing?) well, we're making it one!

Last Saturdays in Tampa will never be the same. We're hot on the heels of making this the signature bar event of Tampa. But we can't do this alone - WE NEED YOU to bring your A-Game for a Saturday of fun and games. What else are you going to do on a Saturday? Dust off your stamp collection? Come on, we know you can do better.

Let Downtown Crawlers take care of your weekend entertainment needs. They've got their legendary Crawler Bus on stand-by to shuttle you from bar to bar. Bar line-up to be announced soon.

They also organize bar games from beer pong to flip cup to corn hole, to win additional drink vouchers and tickets for local events, shows and attractions. Tampa's Last Saturday Bar Crawl is more than just drinking. Bring your crew, make new friends, discover new places, win cool stuff, have a good old time!

WHAT YOU'LL GET!
- Free Welcome Shots - One free welcome shot at participating bars!
- Free Transport - Crawler Bus, shotgun beers!
- Free Bar Games - Win drink vouchers and more!
- Free Raffle ticket - Win tickets to local attractions!
- Free Fun - Stock up on happiness for the month ahead!

Certificate expires: 09/30/2017

Downtown Crawlers
Highlights:
2-4-1 Admission to Tampa's Last Bar Crawl on 9/30/17!
Fine Print:
$80 value. Valid for two (2) admissions to Tampa's Last Saturday Bar Crawl on Saturday, September 30, 2017 from 2-8pm. Includes transportation to each location and welcome drinks. 21+ only. Games and prizes all night long at each venue. No refunds on events unless canceled by organizer. Event takes place in multiple locations. Will not be admitted without registering on event site beforehand. No cash back. No cash value. Must print certificate and present with valid at ID at entry. Expires 9/30/2017 after event. For more info, please go to: https://www.eventbrite.com/e/tampas-last-saturday-bar-crawl-september-tickets-36808678749?aff=HOMEsept
Tampa
912 N. Franklin Street
Tampa, FL 33602
(813) 487-9990