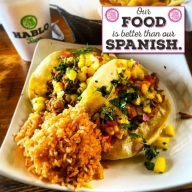 Hablo Taco
$30 Deal for $15
For only $15, you'll receive a Deal valid at Hablo Taco ($30 value)!
On a blazing hot summer day in the heart of Mexico, two dudes walk into a bar in search of something to cool off. The bartender poured them a shot of his finest tequila. One led to two, to three and to...a lot. But then, almost like magic, the God of Fire appeared. He bestowed a genius idea upon them and like a bolt of lightning, Hablo Taco was born.
Hablo Taco is as authentically inauthentic as it gets. The guys running the place can't speak Spanish, but they sure can deliver a mouthwatering Mexican menu that will shake up your maracas. Gather your amigos and enjoy bold flavors, plus premium margaritas and ice cold cervezas. Oh, just don't drink the water. The tequila is much better.
$30 value. Limit one certificate per table (regardless of separate checks). Not Valid December 29, 2016 through January 9, 2017. Not valid with other specials, promotions or discounts. Tax and gratuity not included. No cash back. No cash value. Not valid for Restaurant Week 2017. Present certificate prior to ordering. Expires: 11/20/2017
Sold Out!

Tampa
615 Channelside Drive
Tampa, FL 33602
(813) 405-8226