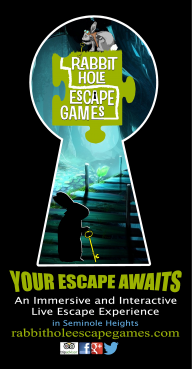 Rabbit Hole Escape Games
2-4-1 Reservations for Rabbit Hole Escape Games
For only $30, you'll receive $60 towards a booking at Rabbit Hole Escape Games! Grab your friends and take $30 off a group booking!
Rabbit Hole Escape Games is Tampa's newest Escape Room. Rabbit Hole Escape Games provide the latest entertainment craze in the form of themed puzzle rooms. You and your team race against the clock to solve puzzles, decipher clues and complete an assortment of tasks. An exhilarating immersive and interactive adventure: both fun and mentally challenging. You are allotted one hour to escape this fast-paced game filled with surprises. Will you find the final exit keys before time runs out? A truly unique outing catered for families, friends, special events or team building. No special skills required/no horror elements. Ages 10 and up. Three miles north of downtown in Seminole Heights.
​Themed rooms: 'Escape the Bermuda Triangle' and 'Space Mining'
For full info, click here.
Must use CL Deal code to make reservations in advance: http://www.rabbitholeescapegames.com/pages/bookings
Codes are valid for online reservation 24 hours after initial CL Deals purchase.
$60 value valid towards any game reservation. Limit 1 certificate per party/reservation/timeslot. No cash back. No cash value. Must make reservation in advance. Visit the registration website (http://www.rabbitholeescapegames.com/pages/bookings), and enter your certificate number as the promo code. Once the code has been applied, complete the registration steps outlined on the website. Codes are valid for online reservation 24 hours after purchse. Expires: 09/22/2017
Add To Cart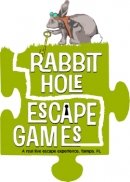 Tampa
5120 N Florida Ave.
Tampa, FL 33603
(813) 236-9202