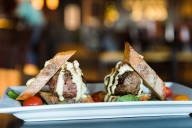 Cuvee 103
$30 Deal for $15
Cuvée 103 is a fine dining, New American, restaurant where they blend fine food, fine wine, & jazz music to create a cozy & sophisticated ambiance.
Cuvée 103's concept is a cuvée - pronounced "coo-vay"which is a French wine term for a vat of of wine with blended varietals. They're using the term in this case to mean a blend of fresh and seasonal cuisine in a full menu, a dynamic & extensive wine list with over 100 selections and live music every weekend. They offer delightful choices ofappetizers, entrees, desserts and daily features and use only natural, fresh and seasonal ingredients.
$30 value. Limit one certificate per table (regardless of separate checks). Not valid with other specials, promotions or discounts. Tax and gratuity not included. No cash back. No cash value. Present certificate prior to ordering. Expires: 6/30/18.
Sold Out!

Clearwater
2454 N McMullen Booth Rd.
Clearwater, FL 33759
(727) 726-0350