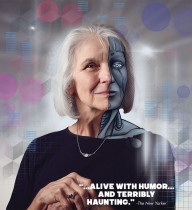 American Stage
2-4-1 Tickets to any Fri. or Sat. night showing of Marjorie Prime at American Stage
For only $49, you'll receive a certificate valid for two tickets to any Fri. or Sat. Night 2017-2018 Mainstage showing at American Stage ($98 value)
Now Playing: Marjorie Prime from March 7-April 1, 2018
Come see why American Stage was voted Best Theater Company in Creative Loafing's 2017 Best of the Bay!
Directed by Producing Artistic Director Stephanie GularteStarring Janis Stevens (American Stage's 4000 MILES)
A TAMPA BAY AREA PREMIERE
"…alive with humor… and terribly haunting." -The New Yorker
WE THE PEOPLE…DEFY OUR OWN MORTALITY
The Sunshine State and the Golden State join forces for this American Stage/Capital Stage Co-Production. This captivating sci-fi drama explores the mysteries of human identity and the limits – if any – of what technology can replace. It's the age of artificial intelligence and 86-year-old Marjorie is worried that her memory is fading. But when a mysterious and charming young visitor appears to help Marjorie uncover the intricacies of her past, questions emerge about the limits of technology and the possibility that memory might be a purely human invention. What would we remember, and what would we forget, if given the chance?
$98 value. Each certificate is valid for two admissions to any Friday or Saturday night mainstage show for American Stage's 2017 - 2018 season. Not valid for opening nights. Limit one certificate per person. Tax and gratuity not included. No cash back. No cash value. Present certificate at American Stage box office day of show and call 727-823-7529 in advance to book and guarantee your seats. Expires: 08/06/2018.
Add To Cart

St. Petersburg
163 Third St. N.
St. Petersburg, FL 33704
1 (727) 823-1600