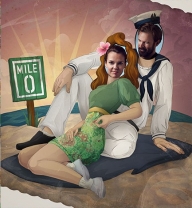 American Stage
2-4-1 Tickets to any Fri. or Sat. night showing of Much Ado About Nothing at American Stage
For only $49, you'll receive a certificate valid for two tickets to any Fri. or Sat. Night 2017-2018 Mainstage showing at American Stage ($98 value)
Now Playing: Much Ado About Nothing November 8 - December 10, 2017
Come see why American Stage was voted Best Theater Company in Creative Loafing's 2017 Best of the Bay!
The original Rom-Com couple, Beatrice and Benedick, face off in a hilarious battle of wits in this American Stage take on Shakespeare's famous romantic comedy about the war between the sexes. As World War II is drawing to a close, one woman rails against the roles expected of women of her era while one man is just returning home from the war and in no hurry to be tied down. Who needs love? Full of music and dance, and set against the backdrop of the Florida Keys' bright sunshine, this exuberant and festive play reminds us that no one is immune when it comes to matters of the heart.
$98 value. Each certificate is valid for two admissions to any Friday or Saturday night mainstage show for American Stage's 2017 - 2018 season. Not valid for opening nights. Limit one certificate per person. Tax and gratuity not included. No cash back. No cash value. Present certificate at American Stage box office day of show and call 727-823-7529 in advance to book and guarantee your seats. Expires: 08/06/2018.
Sold Out!

St. Petersburg
163 Third St. N.
St. Petersburg, FL 33704
1 (727) 823-1600