$15 for $30 at Dr. BBQ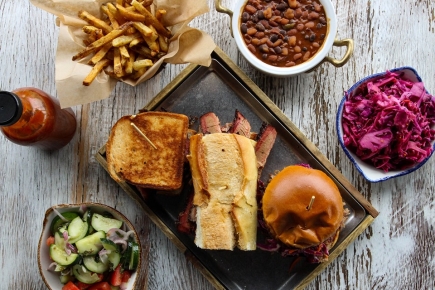 That's 50% savings
18 Purchased
Time Remaining0 Days
For only $15, get a $30 certificate valid at Dr. BBQ!
Offering "new American barbeque" to the Tampa Bay area, this full-service restaurant sizzles with global flavors. Dr. BBQ created these exclusive new recipes by drawing on inspiration from his travels and the local tastes of St. Pete.
The restaurant has a rustic industrial ambiance to complement the cuisine. It features a remarkable selection of bourbon curated by an award winning mixologist along with a creative cocktail program and local beers for patrons wanting spirits along with the main event: the barbecue!
Certificate expires: 01/31/2021
DEAL HIGHLIGHTS
Full-service restaurant sizzling with global flavors!
FINE PRINT
$30 value. Limit one certificate per table (regardless of separate checks). Not valid with other specials, promotions, or discounts. Tax and gratuity not included. No cash back. No cash value. Not valid for Restaurant Week. Present certificate prior to ordering. Expires: 1/31/2021. How does CL Deals work?
Our Deals are split up into four categories - Deal of the Day (a limited-time offer that's 50% off or more), Eats (restaurants, bars, eateries and markets), Living (spas, movies, gyms, salons, attractions, concerts and more) and Goods (clothing, jewelry and home decor retailers, and more)...