$15 for $30 for Dry Salt Therapy at EPIC Bodywork & Massage
EPIC Bodywork & Massage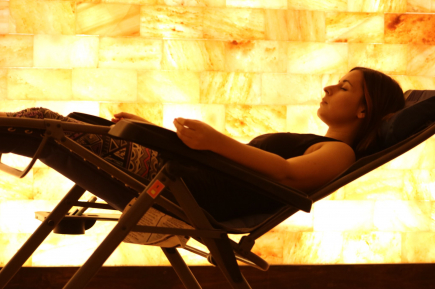 Sold Out!

For only $15, get a $30 certificate valid for Dry Salt Therapy at EPIC Bodywork & Massage!
Cleanse and detox the respiratory system with Dry Salt Therapy!
When the dry salt particles enter your airways, they act as a natural absorbent for allergens, toxins, and other foreign substances. These salt particles can also help break down mucus, kill bacteria, and reduce inflammation. The airways are thus cleared and widened so that they can function more optimally.
Adding Salt Therapy into your wellness routine may help relieve a variety of respiratory conditions, such as: Asthma • Allergies • Common Cold • Bronchitis • COPD • Cystic Fibrosis • Sinusitis • Ear Infections • Smokers Cough • & more.
Plus, Dry Salt Therapy is great for your skin! The super absorbent and anti-bacterial salt particles work to remove impurities while also drawing moisture to the skin. Anti-inflammatory properties can also help to ease symptoms of skin conditions such: Psoriasis • Eczema • Swelling & Inflammation • Dermatitis • Dry & Flaky Skin • Acne • Rashes • Rosacea • Skin Aging • & more.
Offer valid for $30 towards 15-minute Salt Booth session (smaller, enclosed booths that allow for a more personal and individualized experience) or 45-minute Salt Room session (ambient lighting, soothing music, and zero-gravity chairs allow for a more relaxing, stress-relieving experience; booth fits up to six people).
$30 value. Must call 813-898-0601 to book in advance. Must mention certificate when booking and present upon arrival. Limit one certificate per customer. Not valid with other specials, promotions or discounts. Tax and gratuity not included. No cash back. No cash value. Expires: 3/31/22.