2-4-1 GA Weekend Passes to Oktoberfest Tampa 2019
Oktoberfest Tampa 2019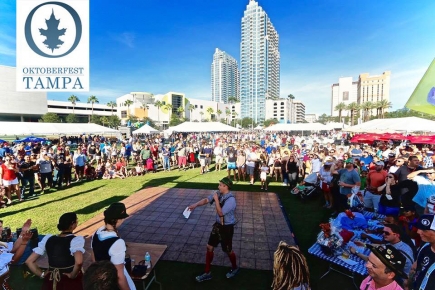 Sold Out!

For only $25, you'll receive a Deal valid for two (2) GA weekend passes to the 10th annual Oktoberfest Tampa 2019 at Curtis Hixon Park 10/11/19-10/13/19 ($50 value)!
Celebrate at the Festival of Gemütlichkeit with german cheer, dancing and singing to cooler weather and colder beer along the Hillsborough river downtown at the Curtis Hixon Waterfront Park this Oktober 11th, 12th, and 13th. Oktoberfest Tampa 2019 is a time to unwind and make new friends. Learn new customs and sing a few songs. Help us tap the inaugural keg Friday, Oktober 11th, as we open the doors to Tampa's largest Oktoberfest.
Eat all the brats your heart desires, play in the Outrageous Bavarian Games to win cool swag and prizes and definitely bring your friends and family to participate in it all.
As they are every year, the Oktoberfest Games are FREE to play for all. There is a designated Games SignUp tent centrally located on the event field.
Have you seen the Beard & Mustache Competition? It's a serious showdown of facial hair, talent and style! Per tradition, that competition is held on Saturday, October 12th @ 6:00pm.
Enjoy delicious food, live alphorn performances, oompah music, Schuplattler dancers and even a German DJ - DJ Jay Kay!
There will be daily Ceremonial Keg Tappings, Mr. & Mrs. Oktoberfest and Mustache competition on Saturday, and some good ol' chicken dance every day.
Family friendly & doggie friendly!
Don't forget to try their own signature Oktoberfest Tampa Dunkel when you're there.
FRIDAY 10/11/19
4:00pm - 11:00pm
SATURDAY 10/12/19
11:00am - 11:00pm
SUNDAY 10/13/19
11:00am - 6:00pm
BEER LINEUP:
- Goose Island Oktoberfest
- Blue Point Brewery Oktoberfest
- Victory Brewing Company Festbier
- Beck's Brewery Pilsner
- Oktoberfest Tampa Dunkel by Veza Sur
- Oktoberfest Tampa Hefeweizen by Victory Brewing
- craft firkins (daily)
- O'Douls N/A - cans
WINE:
- Riesling
- Gewürztraminer
- Merlot
For Friday 10/11 VIP Deal, click here.
For Saturday 10/12 VIP Deal, click here.
For Sunday 10/13 VIP Deal, click here.
For more info, click here.
For event updates and to invite your friends, click here.
Certificate expires: 10/13/2019
$50 value. Valid for two (2) general admission weekend passes for Oktoberfest Tampa from October 11-13th, 2019 at Curtis Hixon Park. Arrive with your photo ID and printed CL Deal to enter the event. Entry is valid for any and or all days of the festival weekend. GA Weekend Passes only get you in to event. Food, wine & beer are not included and are available at an additional charge. No refunds on events. No cash back. No cash value. 21+ only. Event is rain or shine. No outside food/drink will be permitted inside the event. Expires 10/13/19, or after event. For complete rules of event and FAQ, click here.