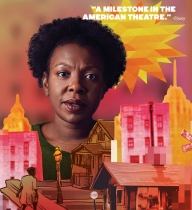 American Stage
2-4-1 Tickets to any Fri. or Sat. night showing of A Raisin in the Sun at American Stage
For only $49, you'll receive a certificate valid for two tickets to any Fri. or Sat. Night 2017-2018 Mainstage showing at American Stage ($98 value)
Now Playing: A Raisin in the Sun January 24 - February 18, 2018
Come see why American Stage was voted Best Theater Company in Creative Loafing's 2017 Best of the Bay!
Lorraine Hansberry's groundbreaking family drama is the first play in our American Legacy series. Dedicated to modern classics that lend historical perspective to stories from our past, this series seeks to draw a connection between our culture's history and the events of today.
In pursuit of the American Dream, the dynamic Younger family wrestles with the push to assimilate into a white Chicago neighborhood, and the pull of their cultural roots. These opposing forces both unite and divide the family, as each grapple with the social issues that challenge their identity – and the personal choices that will determine their future. This story of hope and inspiration remains universally relevant more than 60 years after it first hit Broadway.
$98 value. Each certificate is valid for two admissions to any Friday or Saturday night mainstage show for American Stage's 2017 - 2018 season. Not valid for opening nights. Limit one certificate per person. Tax and gratuity not included. No cash back. No cash value. Present certificate at American Stage box office day of show and call 727-823-7529 in advance to book and guarantee your seats. Expires: 08/06/2018.
Add To Cart

St. Petersburg
163 Third St. N.
St. Petersburg, FL 33704
1 (727) 823-1600